I bet you think you know what we will say, but you're wrong. Logically, you think we will say "yes" to the question from the title, after all, we are an SEO agency, but we can't do that. In most cases, the answer is "yes", but not always, and not for everyone.
Let me explain. Search engine optimization is definitely a great marketing strategy if you want to get new leads for your local business. In my opinion, it's the most important one in most cases, but in some cases, it is not.
Let's use good ol' SWOT analysis to explain better:
Strengths: long-term strategy, free organic traffic…
Weaknesses: it takes time to start seeing results, attracts only existing clients
Opportunities: becoming recognizable brand in the local area, possibly expanding
Threats: competitor has higher budget, competitor may increase their SEO budget when you take over their positions
So from this, you can see why SEO is not always the best or the most important way of getting new leads for your local business. For example, if you need some leads really fast, like in few days, you can't forget that with SEO.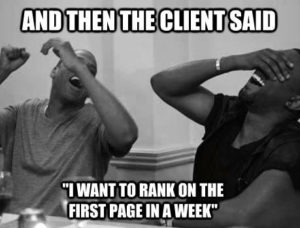 No respectable SEO company would offer you to rank you within few days. It takes weeks and months to get to the top of Google if you have a new business that isn't ranking near the first page, and every rush in the process can only endanger your chances to get to those top positions in SERP (search engine result page). If someone does offer you results within few days, run from them as fast as you can.
Another important thing is a budget. A lot of business owners have a totally wrong perception on SEO, and in most cases, it is not their fault. If you own a website for your local business, chances are you're getting emails from SEOs, or should I say "SEOs", offering you to do search engine optimization for a small fee. When you see that, you think search engine optimization is an easy job, and that almost everyone can do it, so the price should be cheap (and you already have some number to compare, because you got more than few emails from people offering you their services).
But the truth of the matter is, SEO is not cheap. Quality SEO is not cheap, that is. It's an all changing industry and what worked in the beginning of the year might not work now, or even worse, it can be detrimental now, and it can ruin your website.
Plus, Google's algorithm is no joke, so if you want someone who really understands how secret proprietary algorithm of the most valuable company in the world works, I don't know why would you think that everybody can do it. That means it takes a lot of knowledge and hard work for a high-quality SEO, and whoever is willing to invest that, they are not willing to work for pennies.
But the price of SEO shouldn't be important for business owners at all. Now you might think to yourself that I'm ignorant for saying that, but let me explain.
If you ask an average business owner if $10 000 a month for SEO is a lot, they will say it is, and they will be wrong, because $10 000 a month is just a number that doesn't say us very much. It only says how much the business owner should pay to the SEO company, but it doesn't say what is the ROI (return on investment). If you have a good ROI, you would be crazy not to increase your budget as much as you can if you're keeping that ROI.
Let me be more specific. If a client is paying me $10 000 a month for SEO, you can bet that he profits at least that much. So let me ask you again. Is it too much for you to pay me $10 000 a month if you PROFIT also at least $10 000 a month from leads you're getting directly from my work? I bet it's a different answer.
So the price is not important, it's the return you're getting that matters, and some business owners don't understand that!
Now when we're talking about ROI, there is one important thing that needs to be clear to everyone who wants to hire an SEO. And that thing is – search engine optimization is what the name suggests. It is optimization of the website, so the search engines love it. When you pay me to do SEO, I do just that. I bring traffic to your website, but what those leads do is not up to me.
What those people do when they come to your website is up to you (and them). I can't guarantee you that a certain number of people will pay for your product/service because I don't know how good you run your business. There are so many variables that come into the play, and we'll write more about that, but for now, you need to understand that conversion of that valuable traffic is something you need to work on.
So let me summarize this story about the importance of SEO for getting leads. While SEO is probably the most important way of getting leads for local businesses, it is not always the best and the most important one. That mainly depends on your business strategy, but if you know your business you should be able to determine that after reading this article. And if you do have a business in Anchorage or anywhere else in Alaska, feel free to contact us using the discovery form, because we do help businesses that need Alaska SEO services.